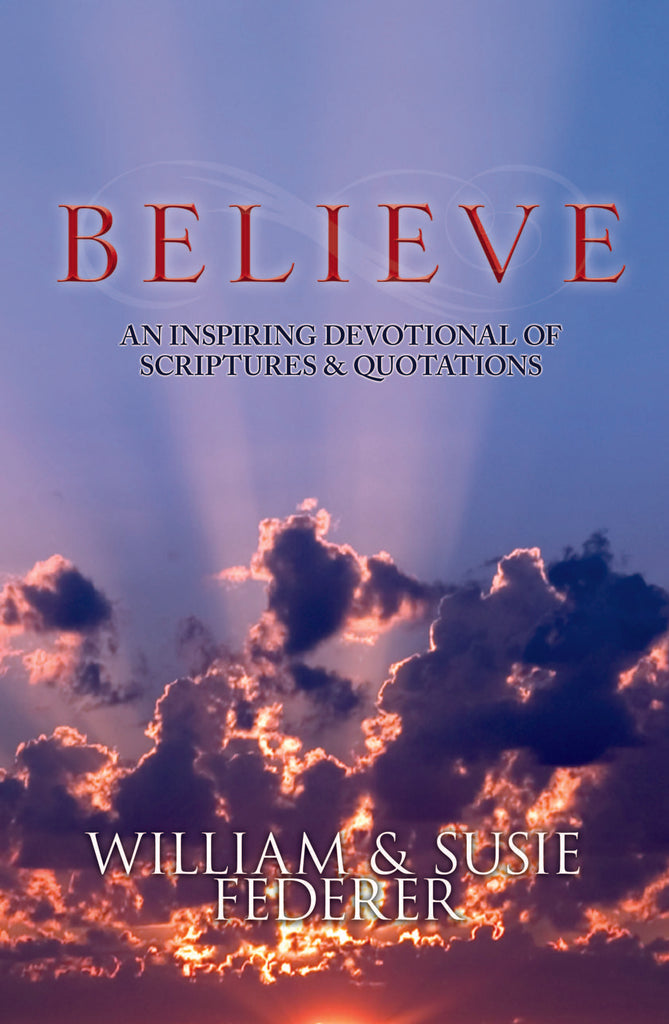 AmericanMinute.com-William J. Federer
BELIEVE - A Captivating & Inspiring Devotional of Scriptures, Thoughts & Quotations
Because we need to believe ...
This captivating 264 page book by William & Susie Federer includes chapters titled:
Believe in the Lamb of God
On Accident or On Purpose
From God's Point of View
Universe Displays God's Infinite Power
Subatomic Particles Display God's Infinite Power
Why Did God Make Us?
Love Cannot Be Forced
God Gives You Grace to Respond
God Does Not Need Your Love but He Wants It
God Hides Himself So You Can Have Free Will
A Centi-Billionaire's Son
Default Setting of Humanity is Selfishness
God Cannot Deny Himself
Adam and Eve Hid
Adam & Eve's Religion of Fig Leaves
Cain's Religion of Works
Mirror, Soap and Water
Old Testament Sacrifices Point to Jesus
God is Just and He Cannot Change His Nature
He is a God of Justice—Yet He Wants Your Love
For God to Be Just He Has to Judge Every Sin
Why Did the Lamb Have to Die?
God Will Provide Himself a Lamb
Book of Revelation Judgment
Jesus was Judged in Our Place
Jesus Paid It All
We Are In Christ
Are You Like Cain or Abel?
God's Gracious Plan
Your Heart Will Change from Repel to Attract
C.S. Lewis—The Most Reluctant Convert
What About Works?
The Trinity
Promise of the Holy Spirit
The Holy Spirit and Your Heart
God is Outside of Time–We Live in Slow Motion
God Knows All Possible Futures
AI—Artificial Intelligence
Spirit—Mind—Body
Predestination and Free Will
Prophecies Fulfilled
Yielding to God's Grace
His Will Be Done—Through Each of Us
Worship is Returning Your Life to God
Through Our Trials We Look Forward to Heaven
Worthy is the Lamb
What is Your Story?

Selected Scriptures & Quotations

Believe God Has a Plan for Your Life
Quotations on What Inspired the Successful
Believe for Happiness, Joy & Contentment
Scriptures on Joy
Scriptures on Contentment
Believe in the Holy Spirit Within You
Believe for Health and Well-Being
Believe for Your Family
Quotations About Family
Believe God's Promises for Protection
Quotations About Believing God for Protection
Believe for the Future of Our Nation
Believe God's Promise of Eternal Life in Heaven
- - -
God's Gracious Plan
1. God created us as free will beings in His image, who He loves and we have the ability to voluntarily love Him back.
2. He created time, so we could have our free will yet He is still in control. We exist in time and He exists outside of time.
3. He hid Himself behind His creation so we would have an opportunity to use our free will, otherwise we would be so overwhelmed by His incomprehensible awesomeness that we would respond involuntarily.
4. He is just, and we have all sinned and deserve judgement, so He sent His Eternal, Divine Son to take the judgement for our sins.
5. Then God fills us with His Holy Spirit, so that through us God can share His unconditional love with the lost and hurting world, so that others could be drawn to freely love Him back.

---
More from this collection